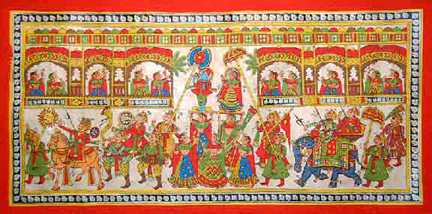 Story of Gan-Gaur
The festival is celebrated by womenfolk with great enthusiasm and devotion for Gauri, the consort of Lord Shiva, she represents purity and austerity.. While married women worship Gauri, the embodiment of perfection and conjugal love for the success of their married life, unmarried women worship the Goddess for being blessed with good husband. Gangaur Festival also celebrates monsoon, harvest and marital fidelity.
Gangaur signifies Lord Shiva and Parvati together. It's believed that Parvati returned to her parental home during Gangaur, to bless her friends with marital bliss. On the last day, Parvait was given a grand farewell by her loved ones and Lord Shiva arrived to escort her home.
This worship starts form the first day of the chaitra month culminates on the 18th day into Gangaur festival with a great religious fervor. On the eve of Gangaur festival women decorate their palms and fingers with henna. The idols of Gan (Shiva) and Gauri (Parvati) are immersed in pond or in a near by lake on the last day of the festival.